Florprotec® TacBac standard
TacBac Clear carpet protection film should be used to protect entire carpeted areas and carpeted staircases. The usefully self-adhesive film can be laid freehand in single strips or across a whole carpet area to build a waterproof barrier which not only protects from dirt and spills but also foot traffic.
The TacBac provides optimal health and safety adherence with its self-adhesive surface, ensuring that it stays in place and doesn't travel like some alternative loose protection methods. Although the TacBac Clear carpet protector roll is a completely self-adhesive carpet cover, we recommend that any smooth nosing's are first be lined with Florprotec T45 Tape to ensure that your plastic carpet protector stays in place for optimum protection.
TacBac carpet protection film should not be used on damp or wet carpets or carpet where adhesive has not cured and we recommend avoiding trapped vapours. Applying to soiled contaminated or carpets of poor condition is not recommended. Tacbac carpet cover should not be used on deep pile domestic carpets, similar to saxony style products or any deep pile carpet.
If you are looking for carpet film to suit handmade carpets, we advise that you check the suitability of the TacBac protection film product with your carpet manufacturer before use.
Product Highlights:
Adhesive backing eliminates need for taping

Ideal for rooms, staircases and corridors
Lays flat, reducing trip risk
Peels clean after use

Suitable for use up to 8 weeks.
| Code | Colour | Dimensions | Weight | Actions |
| --- | --- | --- | --- | --- |
| T37/50m Carpet Protection Film | Clear | 0.6m x 50m | 2kg | |
| T37 Carpet Protection Film | Clear | 0.6m x 100m | 4kg | |
| T5308 Carpet Protection Film | Clear | 0.8m x 100m | 6kg | |
| T90 Carpet Protection Film | Clear | 0.9m x 100m | 6.5kg | |
| T59 Carpet Protection Film | Clear | 1m x 100m | 7kg | |
| T41 Carpet Protection Film | Clear | 1.2m x 100m | 8kg | |
| Antislip 0.6 Carpet Protection Film | Clear with embossed finish | 0.6m x 100m | 4kg | |
| T51 Carpet Protection Film | Clear | 0.6m x 25m | 1kg | |
Contact

your local account manager

us

for prices
Click here to see our range of all Carpet Protection Products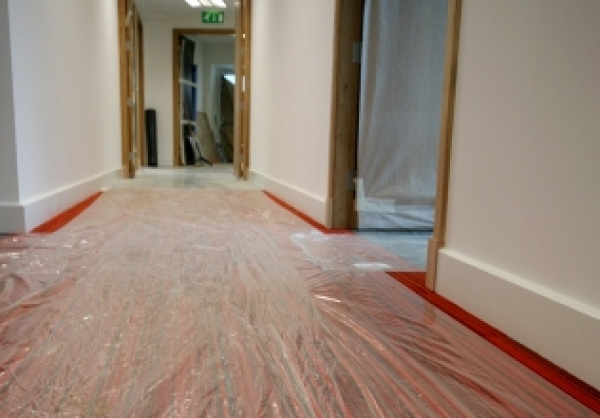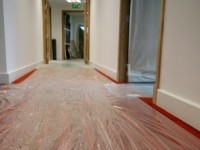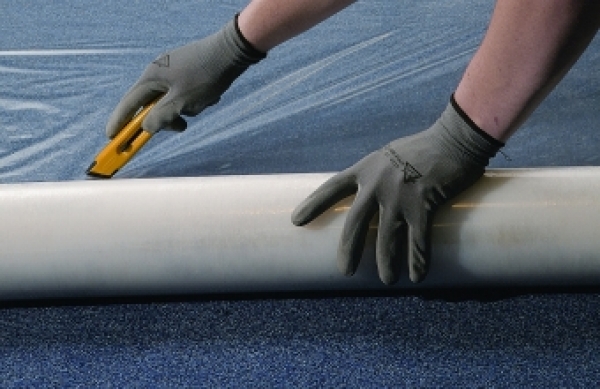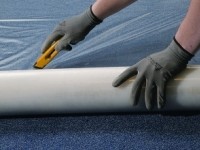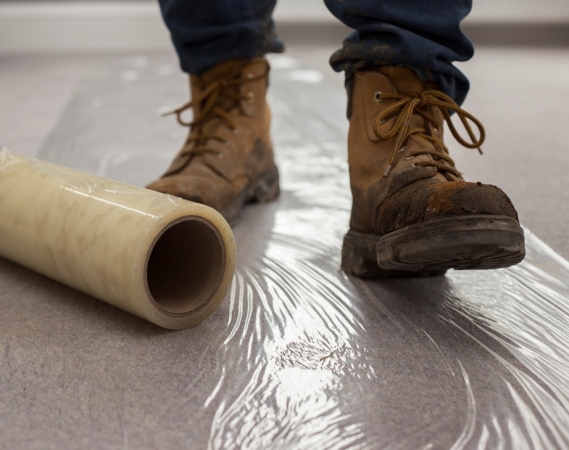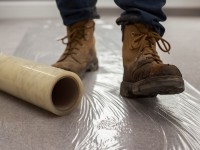 More from


Florprotec® TacBac (Self Adhesive floor protection)
Open your


Florprotec® Account
Opening an account with florprotec® is easy, just fill out our form and we'll be in touch.
Register